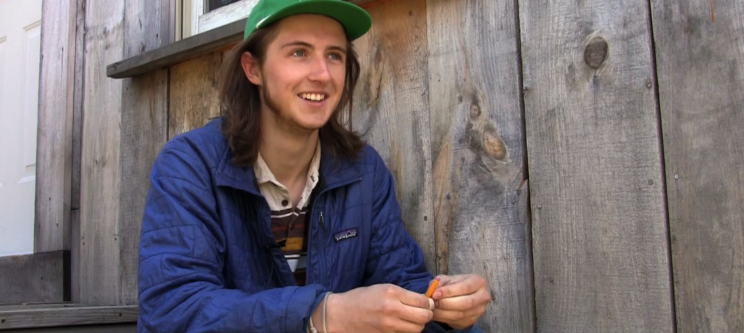 I had a relatively unsatisfactory high school experience in a large school in Memphis, Tennessee, and I was burnt out on what I thought was an academic lifestyle. I took a little over a year off doing internships around the country, and I wanted to bring my self-exploration to a community where such an enterprise would be supported. Coming to Marlboro has been that—and more: I have grown intellectually, and can still spend copious amounts of time doing the things I love outside. The first time I set foot on campus I could imagine myself going to school here because of the wooded landscape and the bucolic atmosphere.
ON HUMAN ECOLOGY
I'm really interested in the confluence of social justice and environmental justice: human ecology. We have a lot of technology that could make the world a more sustainable community, but much of that technology is only available to a small portion of the world's population. How can we use sustainable methods to improve lives from the one percent all the way down to people all over the world living on under a dollar a day. Since we've become so removed from our natural environment, that has really enabled a lot of that disparity.
ON SOCIAL LIFE AT MARLBORO
Marlboro consistently offers the best conversations of anywhere I've ever been. I remember coming back from winter break and being blown away by how informed and invigorated the students are—I forgot over break! Everybody here is passionate about something. I like being a part of a community that governs itself—if there is a flow I don't agree with, having the very real, tangible opportunity to stand up and make my voice heard. Marlboro is a good meshing point between my value system and growth that I wanted to experience in my own life.
ON ACADEMICS AT MARLBORO
It's challenging but it's the type of challenging I was looking for. I'm the one asking questions—not the professors, who are very much there to guide me and facilitate that question-asking experience. So it's definitely student guided at Marlboro—it puts the onus on the student. The intellectual atmosphere here is tremendous. I always said if I went to college I wanted to go to a place with interesting people and to do things I'm interested in. It makes my day-to-day life pretty satisfying.
ON TAKING CARE OF TRAILS
I work for the Outdoor Program as the trail steward. We have about 15 miles of trails here on campus on about 350 acres, so that's part of what I do—create necessary trails and do basic maintenance. If a tree falls, I get out there and move it. I think one of the areas Marlboro could improve on is tying its students more to place. The trail system is a massive resource—I really want that to become a focal point of why people come to Marlboro. I think that would create a community that is really positive and tied to place.
ON ADVICE FOR NEW STUDENTS
Come to Marlboro willing to grow. Really keep that in mind when you come to the campus. Say, "I want to try something new. "­It's something that has been really helpful for me; it's made my academic experience much more fulfilling.