"In Machiavelli's time, the superstitious reasoning had a Catholic veneer," said politics professor Meg Mott to a full room at the National Press Club, in Washington, D.C. "In our time, superstition speaks the language of free markets. Both worldviews are based on a notion that fortune smiles on the elite and rightly punishes the damned."
The May 19 occasion was the latest of the Marlboro on the Road events, which invites communities beyond Vermont to engage, reconnect, and gain insights from Marlboro's highly regarded faculty on topics relevant to our future. With opening remarks from Marlboro President Kevin Quigley, the D.C. event drew more than 70 alumni, friends, educators, and prospective students to hear Meg speak on the subject of "The Return of Machiavellian Politics."
"The neoliberal worldview assumes that self-interested calculations will lead the individual to middle-class security," Meg said. "Lately that logic seems to be breaking down." Meg was joined by alumni Alexia Boggs '13 and Avi Zollman '03, who helped her explore what motivates voters in the current presidential election.
Alexia did her Plan of Concentration on the villainization of political figures as a popular strategy in politics, and is currently pursuing a law degree at University of Mississippi School of Law. Avi has more than a decade of experience in political campaigns and issue organizations, and is now digital campaigns director at Everytown for Gun Safety.
The Marlboro on the Road events are proudly sponsored by the Marlboro College Trustees, and have brought the best of Marlboro's academic inquiry to audiences in New York, Boston, and Greenfield, Massachusetts.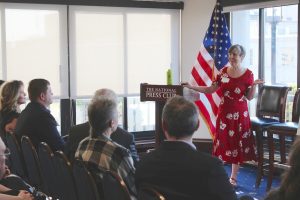 Tagged: