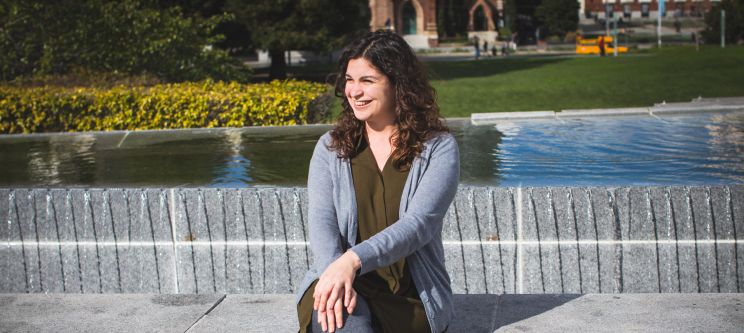 Ten years after graduating from Marlboro with a Plan in film and political theory, Michelle Threadgould '07 is a successful journalist covering the intersection between the arts, culture, and social justice. 
"I have always been a collaborative storyteller," says Michelle Threadgould, a freelance journalist and content marketing manager living in Oakland, California. "I love that arts-and-culture journalism introduces me to artists who are creating subversive work and finding a way to creatively voice resistance."
Michelle's path to writing success has not been a straightforward one—she graduated just before the national recession of 2008, when jobs in any field were scarce and jobs for a punk-rock political writer were nonexistent. Along the way she has been a maitre d', a costume designer for feature films, a magazine intern, a food editor at Gotham Digest, and an executive assistant. In 2011 she applied her costume-designing skills to jewelry design and opened a "rock n' roll reclaimed jewelry" business.
"I became part of an arts collective, shared a showroom, and eventually opened up a store with five other designers. I believed in my business, I believed in my designs, and I opened up pop-up shops across the country, sold at craft fairs, and poured my energy into making it work. But I learned that without enough capital to invest in it, my business wasn't sustainable."
A couple of years ago Michelle wrote a story and submitted it to a contest judged by Ben Fong-Torres, the legendary editor of Rolling Stone and a personal idol of hers. Fong-Torres selected her to read her work at a "Basement Series" event, and buoyed by his faith in her she started to pitch stories to outlets regularly. She also began freelancing as a copywriter. She applied for a music editor position at a local alt weekly in the Bay Area, and the managing editor assigned Michelle her first big feature in eight years. The rest is history.
Last year, Michelle's piece in the Observer, called "We're Not Going Anywhere: Growing up Latino and Punk in America," went viral. She was contacted by several national publications, and started writing more regularly for national audiences. In September she had a feature in Remezcla about Marlboro ceramics professor Roberto Lugo, "the self-proclaimed 'ghetto potter' turning classical ceramics into radical art." After a couple of years writing about the Bay Area, she has become close to all the local music and art editors. She writes for the San Francisco NPR affiliate, KQED, on a monthly basis.
"For Día de Los Muertos last year, I went to Mexico City and worked on my first piece of international, investigative journalism," says Michelle. "I also sold several pieces related to the vibrant alternative rock music scene there. It was an incredible experience." She plans to move to Mexico next spring to cover more Latinx (the gender-neutral alternative to Latino) issues. "I never had the luxury of traveling before last year, but now it's really important to me to travel across Latin America."
Reflecting on her college years, Michelle says, "I think that Marlboro helped me become an even more critical thinker. The teachers at Marlboro pushed me to be a better writer and not be complacent. Also, two of my best friends are from Marlboro, Amanda Martin ('08) and Laura Baetscher ('07), and we have all become politically minded and committed to our work. Their support has been incredible."
To learn more about Michelle, go to clippings.me/mthreadgould.