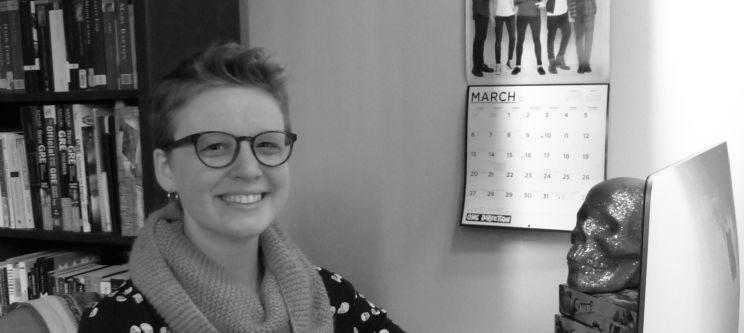 When Molly Booth '14 first wrote a time-traveling, young adult story as part of her Plan of Concentration, she had no idea it would blossom into a full-length novel. Now, with a two-book deal under her belt, she can fall back on the skills learned in Plan to write as if "all the world's a stage."
It would be hard for Molly Booth to match the thrill of finishing the first draft of her book Saving Hamlet as a junior at Marlboro. "I had electricity shooting all through my limbs," she says. "I couldn't stop grinning. I gave myself the rest of the night off from schoolwork, which was an extremely indulgent act, at Marlboro particularly, but I was celebrating."
If anything could equal that rush of excitement for Molly, it was signing a two-book deal with Disney-Hyperion publishing company last March, just months after her graduation. Saving Hamlet, the story of a 15-year-old girl who travels through space and time to help Shakespeare on the original debut of Hamlet at London's Globe playhouse, is due to come out in November 2016. Molly's second book, Nothing Happened, a teen adaptation of Much Ado About Nothing, is scheduled for fall 2017.
The inspiration for Molly to write a full-length novel as part of her Plan started with a fiction workshop with T. Wilson, who encouraged her to keep writing. She then took a tutorial with T., while at the same time studying lesser-known Shakespeare plays with theater professor Paul Nelsen. The latter included Shakespeare history, and, a stage manager herself, Molly became enthralled with The Globe and its backstage.
"Those two tutorials just kind of melded together nicely in my brain," says Molly, who, loving young adult fiction herself and having worked with teens at a summer camp, liked the idea of writing for that age group. When Brian Mooney '90 took over for T.'s sabbatical during her junior year, Molly learned to "write write write," and soon she had a novel. "That's the beautiful thing about Marlboro. All of your interests and passions start weaving together. I really feel it all led to where I am now."
Since graduating, Molly has been living the writer's life in Portland, Maine, which she finds to be a great city with cheap rent, beautiful walks, and lots of activism in the community. "It feels good to be writing a book again. Throwing myself into something with everything I've got. Catching pieces of thoughts and transcribing them into phrases and sentences that I hope will help and connect people. There's nothing I love more."
She tries to make herself write for a few hours a day, and when she gets in the "zone," she plants herself down and writes like there is no tomorrow. "Never interrupt the flow when you've got it going—Plan taught me that." When she's not working on her book, she does some substitute teaching and contributes to feminist entertainment websites like HelloGiggles and The Mary Sue. "I like having a lot of projects to work on at once. That way, if I'm stuck, I can switch to another one and shake it up. Plan taught me that too."
Molly is most looking forward to teens actually reading her book and sharing their thoughts. "Writing a book is a solitary process; you've just heaved your soul onto the pages, and you want to know what that really created. I can't wait."
Check out what Molly and two other recent alumni had to say about transitioning to the world beyond Potash Hill, during the October 2015 Open House and Family Day events.