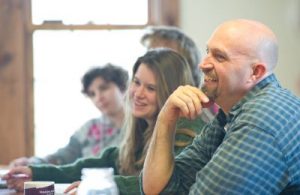 In August, Marlboro College will present its first summer program specifically designed for adults who are interested in writing. This year's summer writing intensive will have the theme of service and active citizenship, and will feature an exciting line-up of professional writers, including Jen Percy, Matt Gallagher, Brian Castner, and Maurice Emerson Decaul.
"The writing intensive will be five days of reading, writing, and discussing literature," said John Sheehy, Marlboro professor and program director (pictured). "The goal is to put professional writers and professors in conversation with new writers who are interested in honing their craft."
The summer writing intensive is offered in collaboration with Words After War, a literary organization co-founded by Brandon Willitts, Navy veteran and Marlboro alumnus. Words After War's mission is to provide veterans and civilians the opportunity to examine conflict and war through the lens of literature.
"Service and active citizenship were firmly at the core of my liberal arts education," said Brandon, now executive director of Words After War. "My desire to build a literary community that brings veterans and civilians together was shaped equally by my military experience and my experiences at Marlboro College."
"Anyone interested in writing and thinking about college is welcome," said Ariel Brooks, director of non-degree programs at Marlboro. "Programming will be geared toward those exploring the craft for the first time and people returning to writing, or to college, after a time away. We particularly hope that veterans and others eligible for our Veteran's Writing Grant will take advantage of the opportunity to attend at no cost."