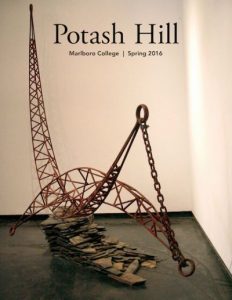 The Spring 2016 issue of Potash Hill, Marlboro College's alumni magazine, is hot off the press—just in time to alert readers to another Excellence Award from the Council for Advancement and Support of Education (CASE). Marlboro is pleased to announce that Potash Hill won bronze in the CASE District 1 overall category of magazines with a circulation of 50,000 and under. This follows on a CASE bronze award last year for best writing in the same category.
"Marlboro community members should be proud of their alumni magazine, which stands out among its peers for the quality of its writing, photography, and design," said editor Philip Johansson. "All of this first-rate content owes its authenticity to the amazing things Marlboro students, faculty, and alumni think and do."
One CASE judge shared, "This magazine did a terrific job of conveying the college's culture. I got the sense from articles…that this college community cares about social justice. I also got a great sense of the closeness of the community…."
Potash Hill shared its bronze award in a tie with Brown University's medical school magazine, Brown Medicine. Both schools were bested by Tufts University's Tufts Nutrition, which was awarded silver, and The Williston Northampton School Bulletin, which won gold (and took gold in the national Circle of Excellence last year). It is worth noting that Marlboro pulls off this this quality of publication with the limited resources of an intentionally small liberal arts institution.