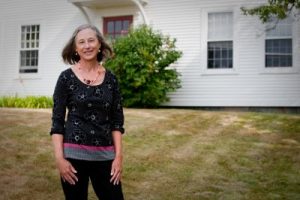 Ellen McCulloch-Lovell, president of Marlboro College since 2004, announced that she intends to step down from the presidency in June 2015.
"This is a difficult decision to make," said Ellen. "I love Marlboro, its intensive teaching and learning, its mission, the value of our work here, the college community, and my relationship with the dedicated trustees, donors, and friends of this institution. But 11 years will be a long term of service, and Marlboro will benefit from new perspective and energy. I think this is the best next step for the college, as well as for my husband Chris and me, and I know that the community will rally to support a new leader."
"We are sad to see Ellen step down after so many years of dedicated service," said Dean Nicyper, chairman of the board of trustees. "Because of her successful and tireless efforts over the past ten years, the college is much stronger than it was when she joined us in 2004. She placed the college on significantly firmer footing organizationally and financially, for which we are all grateful."
As a result of Ellen's leadership, Marlboro has increased the endowment by more than 50 percent, to an impressive $39.5 million, met successively larger fundraising goals, and greatly improved the physical plant and landscape of the campuses. In the last 10 years Marlboro has increased the activity and visibility of the graduate and professional studies program in downtown Brattleboro, launching its nonprofit management programs, and initiated non-degree programs and community partnerships locally.
During her tenure, Ellen became a powerful spokesperson for the liberal arts, publishing numerous articles and leading the Association of Vermont Independent Colleges. She added, "Everything I've been able to accomplish at Marlboro has been with the collaboration and support of this remarkable intellectual and creative community."