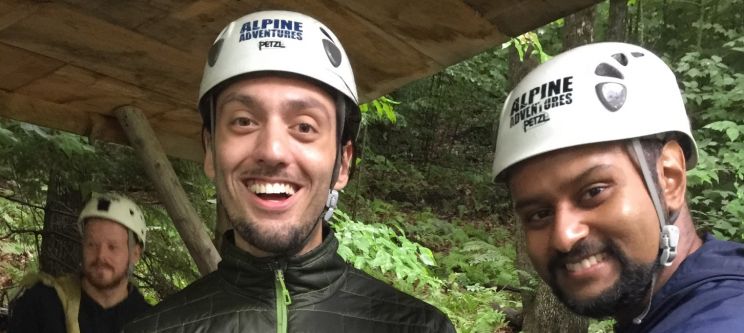 A couple of years ago, on the drive home from a nine-hour hike on the White Mountains, Rik Ganguly '10 and Ari Iaccarino '10 had the following conversation: "Hey, how do you get out here if you don't have a car?" "I don't know, but we should start a business to make it happen." They were both in grad school and working full time in the Boston area, but that didn't keep them from starting Ridj-it, a carpool company devoted to getting more people to explore the outdoors.
"Meeting cool people and getting outside is actually quite difficult in the city, versus at that great little school Marlboro, surrounded by forest," said Ari, who is an ESL teacher for refugees and foreign diplomats when he is not traipsing in the New England wilds. "Every time someone tells us that we helped save them from getting a car and that our service fulfills their needs for adventure, the sense of satisfaction is overwhelming."
Both Rik and Ari credit Marlboro with preparing them for the independent work and research required in their start-up business, and in the real world in general. "The ability to take multiple sources of information and, through problem-solving, coalesce them into something comprehensible and actionable is a mindset, not a skill, that you learn at Marlboro," says Rik, who works in healthcare analytics. "We use everything—art, literature, music, science, psychology, math—all the fields that a liberal arts degree provides, and that is invaluable in the age of automation."
Get more information and see Leslie Wilson '12 star in their promotional video.