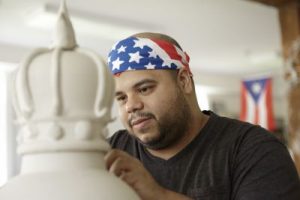 Marlboro's new faculty member in ceramics, Roberto Lugo, is featured in a solo show titled Ghetto Garniture: Wu Tang Worcester, at Ferrin Contemporary, part of the MASS MoCA complex in North Adams, Massachusetts. Running from August 22 through October 12, 2015, the show includes Lugo's work created during an artist residency this summer at Project Art in Cummington, Massachusetts. There are several public events where Roberto will talk about and demonstrate his work and be available for discussion.
"I see the act of making pots as a metaphor for my life," said Roberto at the April meeting of the National Council on Education for the Ceramic Arts, where he received an award as an emerging artist. "Somehow taking the ground that we walk on, and making it into something that we eat from, something that we prize, something that we wait all day and search for the perfect spot for." His comments melded together rap verse, memories of his childhood in an impoverished Puerto Rican neighborhood of Philadelphia, and exploration of his activism and innovative art. "Now, not only do I have a pot to piss in, but I can make one," he said.
Roberto's solo show, Ghetto Garniture: Wu Tang Worcester, explores the notion of eclecticism and culture. By juxtaposing street graffiti, European decorative patterning, and rich symbolism drawn from his Puerto Rican heritage, Roberto Lugo has created a body of work that serves as a hybrid of visual art traditions and stimulates new conversations surrounding cultural tolerance.
"We are pleased to offer the opportunity to Roberto Lugo at this stage in his career to build a show from scratch," said Leslie Ferrin, director of Ferrin Contemporary and partner in Project Art. "His work and process are fully engaged with our regional community as he explores themes of tolerance, immigration, and historic material in area museums and landmarks."