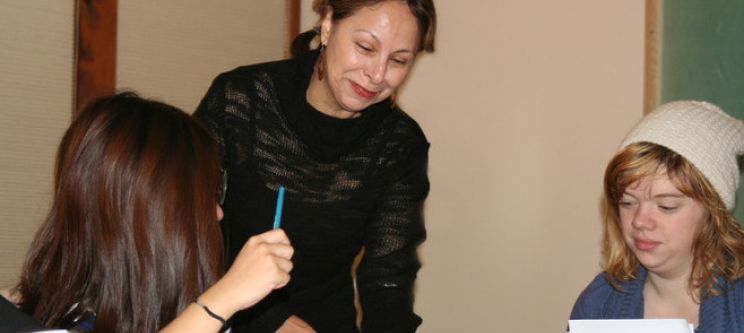 Rosario de Swanson, professor of Spanish language and literature at Marlboro College, received the prestigious Victoria Urbano Award in drama, presented by the Asociación Internacional de Literatura y Cultura Femenina Hispánica (AILCFH). The award, for her play titled Metamorfosis ante el espejo de obsidiana (Metamorphosis before the Obsidian Mirror), was announced on October 21 at the annual meeting of the association at the University of Barcelona.
"The play is a monologue in two acts," said Rosario, who specializes in Afro-Hispanic literature, particularly women writers, contemporary indigenous literature and feminist and post-colonial theory. "It centers on the female protagonist's struggles to overcome self-inflicted repression and oppression, as she also comes to understand her part in the reproduction of other's oppression ingrained in her by cultural norms."
Although Metamorfosis is a contemporary approach to issues of female oppression, the play is deeply connected to Rosario's Mexican roots and ancestry. "Being Mexican, I love music and I tend to draw from it a lot," she said. "In this play I draw on Mexican popular and classical musical traditions, including the aria 'Obisidian Butterfly' by Mexican composer Daniel Catán, from his opera Rapaccini's Daughter."
In September, Rosario also presented a paper on "Dance as female affirmation in Ekomo, a novel from Equatorial Guinea," at an international conference titled Africa and People of African Descent: Issues and Actions to Re-Envision the Future, at Howard University. The conference celebrated and reinforced the United Nations declaration of 2011 as the Year of Africa and People of African Descent.