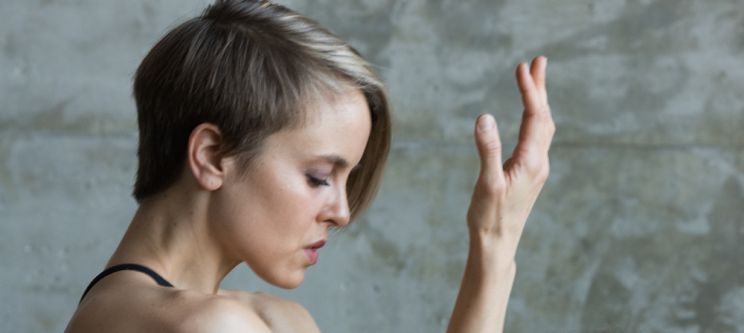 When Shura Baryshnikov '03 was pursuing a Plan in American studies at Marlboro she did as much theater and dance as her schedule allowed, but it was all extracurricular. Now, the daughter of a legendary dancer father and an Oscar-winning mother is a star performer in her own right, finding the common ground between art forms.
Shura Baryshnikov has always found a common thread between dance and theater. A movement instructor in the Brown University/Trinity Rep MFA program for five years and co-founder of Doppelganger Dance Collective, Shura's recent performances are starting to shift more toward theater. She starred in a production of Oscar Wilde's Salome at Boston's Bridge Repertory Theater last year and performed in her first musical this summer, Oklahoma at Providence's Trinity Rep—two performances that required very different skills.
"In my experience, however, being alive in material on stage feels the same in my body," says Shura. "It is all about intention and investment and somatic awareness. Also, since my first forays into theater were in movement-based work, I never felt a clear division between the two disciplines. I am certainly interested in challenging the binary between the forms."
The daughter of ballet legend Mikhail Baryshnikov and Oscar-winning actress Jessica Lange, Shura grew up around performing arts but resisted her own muse for many years. At Marlboro she was a member of the Five-O'Clock Bells, a popular women's a capella group, and performed in a number of theater and dance productions. But all her performing arts credits were audited, reflecting her desire not to identify as a performing arts student.
"In dance and theater, I was mostly a willing volunteer," says Shura, who sometimes found it difficult to be a performer in the shadow of her famous parents. "I put an incredible amount of pressure on myself, and was defeated before I began. I thought that if I wasn't going to be as 'good' as they are at their crafts, then I might as well not try."
After college Shura took some time away from performance, focusing on teaching dance and starting a family, until she delved into improvisational performance. "I finally felt myself grow within a form that felt like my own. It was incredibly important to my development as an artist." Responding to the need to create opportunities to dance in material that would push her technically and expressively, she founded Doppelganger Dance Collective, a performance project for two, with fellow dancer Danielle Davidson.
"It is a make-your-own-magic model, and turns the dance company model inside out: the dancers hire the choreographers," says Shura. "The project has certainly done what I hoped—provided a substantial performance challenge—as well as challenging my capacity as an administrator, director, and collaborator." She credits Marlboro with teaching her to work independently and to write, to feel comfortable representing herself and her work.
Shura is looking forward to a year of touring with Doppelganger Dance Collective, as well as two university residencies and new commissions. She is also in the process of developing two new theater projects, one with artists based in Boston and one with artists based in New York.
"Both projects call on the interdisciplinary nature of my approach, and I sense that this is what my life and work will look like going forward," says Shura. "When I am faced with these amazing projects with such extraordinary collaborators, I say yes, and I move between them. Even though it feels too pressured or busy at times, I believe that there is a cycle of renewal in the process of working on so many projects."
Learn more at shurabaryshnikov.com and doppelgangerdancecollective.com.