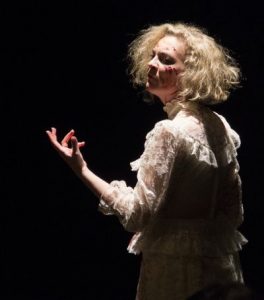 Senior Felix Jarrar and a professional cast presented his new chamber opera in four scenes, The Fall of the House of Usher, at The DiMenna Center for Classical Music, in New York, on April 15 and 16. Adapted from Edgar Allan Poe's short story by the same name, the libretto and score of The Fall of the House of Usher were written by Felix in partial fulfillment of his Plan of Concentration.
"Usher really resonated with me because it's a crazy story," said Felix, an accomplished pianist and composer who will be graduating from Marlboro in May 2016. "I've loved it since I saw it as a play in middle school, and wanted to adapt it since."
In this gothic tale a boyhood friend, played by Jonas Budris, visits Roderick Usher, played by Jeremy Hirsch, and learns of the illness that has plagued and killed almost all the members of Roderick's extended family. The only surviving members of the family are Roderick and his elusive and decrepit twin sister, Lady Madeline, played by Corrine Byrne (pictured). The nature of the relationships between all three characters becomes blurred as the specter of the illness grows and they come face to face with their respective destinies.
"It's such an iconic piece of literature," continued Felix. "It has all this meaning that's never said blatantly. You are always waiting for Poe just to say what's actually happening in the story, but he never does. It's very sardonic, and Lady Madeline has a lot going on."
Directed by Brittany Goodwin, The Fall of the House of Usher came to life in all of its macabre splendor in this New York premier. The opera was accompanied by a professional chamber ensemble, featuring Brendan Speltz (violin), Jocelin Pan, (viola), Andrew Janss (cello), and music director Felix Jarrar (piano).