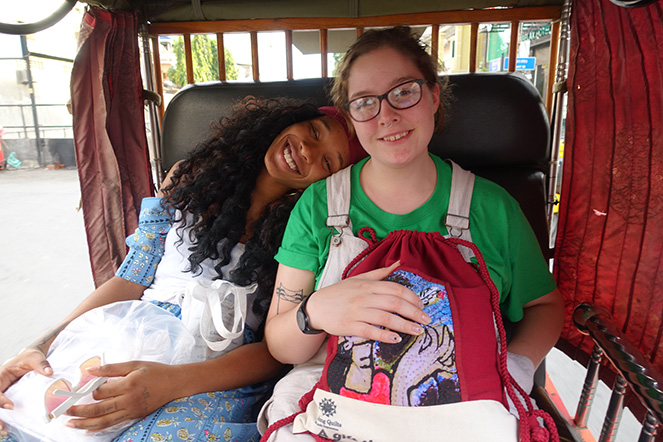 I went to a really small high school in Pennsylvania—my graduating class was only 10 students. I knew I wanted to go to college after high school; I found Marlboro's page in a book on colleges and I was like, "that must be the smallest college ever." I was really intrigued by it, and I ended up doing a summer program here between my 11th and 12th-grade year. That was really wonderful. I was immediately really drawn to the people here and the informality. I couldn't imagine sitting in a lecture hall of 100 people.
On academics
I think it's wonderful. I really appreciate being able to talk to my professors and have one-on-one meetings where we can talk about what I'm working on. I also really like that everything is geared towards what I want to do. I can talk to my professors about my ideas and they can help me sculpt them and make them bigger or scale them down. One thing that I've come across time and time again is just so much encouragement from the professors as well.
On photography
I have a tutorial about photographers who work with school-aged children, and that kind of ties into my work-study job at the In-Sight Photography Project, which works with youth in Brattleboro. We provide photography and video classes. Its nice to have these academic interests that are tying into what I'm doing for a job, and I've been thinking a lot about art therapy and art education. I find that when I'm making art about an overwhelming experience is when it's the most strong and makes the most sense to me. I'm putting into practice what I'm reading about, which is how art can be used as a visual expression of an experience.
On Plan of Concentration
I have a few ideas about Plan. Right now it's kind of a fun idea that I get to think about and not commit to. I've been thinking a lot about visual literacy and art therapy, and how those things intertwine, and about the importance of art education outside of schools. It's important to support the freedom that people can feel when they're not in an institutionalized place. I've also been thinking about art therapy in nursing homes.
On being a resident assistant
You have a lot of responsibility, and you get a lot of training for whatever may come your way. I didn't know the other RAs that well, but we get together and we have this really amazing sense of teamwork. We all want to support the community in the ways that we can. It's all about intent. You deal with fragile and complex things and it's really important to listen to people. You always teach from your principals and I say that my principals are safety and being sure that people have a voice and someone to talk to. It's been an interesting experience.
On social life at Marlboro
I am not the most social person. I like having a small group of friends—a lot of my friends came from doing summer programming and the Beautiful Minds Challenge—but at Marlboro everyone is really down to earth. Students are so active with programming events and attending each other's things. Everyone is supportive and wants to see people do things, even if it's something that they are not directly interested in. This environment really breeds doing things all the time.