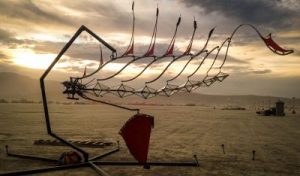 Most seniors at Marlboro have enough to do just to finish their Plan of Concentration, but Colin Leon could not resist the opportunity of a lifetime to work on a fantastical, enormous moving sculpture. Last year he consulted remotely and travelled to California several times to assist a team of sculptors working on a 26-foot-long mobile of metal, glass, and fabric titled "Dancing Serpent," which was displayed at the Burning Man festival.
"The 'Dancing Serpent,' or as we named it 'Peskator Volantis,' originally came from an idea of my cousin and close friend, Gray Davidson, who lives in Oakland, California," said Colin, who completed his Plan in December. "Gray was inspired by some of my kinetic sculptures that utilized both the balance found in complex mobiles and the natural variability of the wind to create pieces that moved in irregular ways."
Colin and Gray had previously collaborated on sculptures, but this was their most ambitious to date, supported by a small grant from Burning Man, the counterculture festival in Black Rock Desert, Nevada. They began working together in the beginning of 2015, and a team of seven ultimately worked on the project, with Colin acting as engineer, consultant, and "chief welder." The full size of the final installation, with the supporting structure, is 14 feet high, 20 feet wide, and 36 feet long. "Dancing Serpent" was first displayed at Burning Man in August, then at the Autumn Lights festival in Oakland during October.
"The Serpent now lives with Gray in Oakland, and has been invited to appear again at the San Francisco Maker Faire in May 2016," said Colin. "We hope that it will find other homes in the following years."