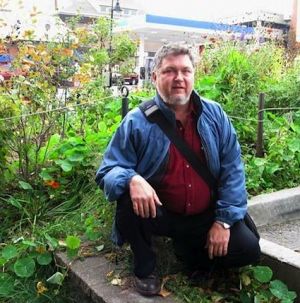 "I felt like I was coming from a backward country into a civilized one," said Will Robb about a recent trip to Sweden with the Marlboro College Graduate School MBA in Managing for Sustainability program. "We have a lot to learn about sustainability, you know? We think we're such smarty-pants here. We've got it all figured out: Our hamburgers come in nice little packages and we have these cars that show up with a new sporty style each year."
Living in Burlington, Vermont, Will has worked as a statistical programmer and sampling statistician at a professional services firm for the last 20 years, helping design surveys that inform public health policies. He has also been an eager supporter of community and environmental issues, from helping in local electoral campaigns to working on a neighborhood revitalization task force. But the turning point for Will came with his involvement in a local community-supported agriculture project, the Intervale Community Farm, where he served on the steering committee for several years and continues as a working member.
"We're not making shareholders rich, but this is a functioning business and we're basically doing something pretty radical in terms of the way people are getting fed," said Will. "The farm feeds some 500 households, and instead of the farmer assuming all the risk the community does."
"Out of this I began to see that business and environmental issues were not opposed-indeed if we were to make any progress at all, we had to harness the engine of business in working towards sustainable goals. This is the philosophy of the Marlboro MBA, so it was a natural fit."
When Will was considering an MBA to further his training, he was immediately drawn to the Marlboro MBA in Managing for Sustainability program. He spent a couple of hours visiting with Ralph Meima, former program director, and felt like "this guy's thinking like I'm thinking. He's seeing the world through a very similar set of lenses." Will considered other MBA programs, but felt like they were just traditional courses of study with a token workshop on "green" business.
"That's just not deep enough in terms of the kinds of changes we're thinking about and trying to effect," said Will. "Also, the mix of residency and online work at Marlboro allows us to build community and still engage in the program from a distance. It is energizing to be with a group sharing a common vision, and working out the answers to the question, 'how do we get there?'"
"I enjoy having my mind engaged and operating in high gear about subjects that really matter, and also the integration of community interests with traditional business aspects such as accounting and finance." Will hopes to gain the skills and training to shift his career to one that is directly connected to building a sustainable economic system. "Together, the students and faculty see this as a means for creating a new model of business-one that is sorely needed."