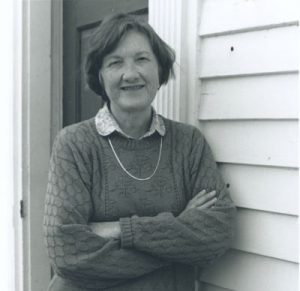 "One cannot think of Willene without hearing her voice with its bit of a Southern accent and seeing in your mind's eye that bright twinkle," says Ted Wendell, longtime Marlboro trustee."  Marlboro's beloved professor of art and music history for 34 years, Willene Clark died in Savannah, Georgia, on January 24, 2015. "Beyond her deep interest in the welfare of students and always in the future of Marlboro College, Willene carried her broad knowledge of fine arts to a detail as a world-renowned scholar in the representation of medieval bestiaries. The tapestry of Marlboro derives its richness from the color and richness of the images Willene and others weave in."
Willene was born in Savannah in 1932, and received her bachelor's degree from the University of Pennsylvania. She got her master's degree in art and music history at Columbia University, and her doctorate in art history at Yale. Willene had fallen in love with New England by then, and taught art and music history at Marlboro from 1963 until her retirement in 1997. She served on the college President's Advisory Board, the selectboard of the township of Marlboro, and as a member of the ski patrol.
"During faculty meetings in the Culbertson Room, the industrious clicking of Willene Clark's knitting needles acted for many years as a kind of aural barometer of the meeting's shifting moods—clattering vigorously as tensions rose, or clicking softly as routine business was carried on," wrote Dan Toomey '79 in Potash Hill (Winter 2002).
One of her legacies at Marlboro is the name of Apple Tree, the small building across from Admissions used for slide shows, movies, classes, and lectures. Willene, who taught art history in the building for over 30 years, just kept calling the place "the little Apple Tree," referring to the apple tree that grows next to the building, until the name stuck. Another important legacy is the Helen W. Clark Prize, an award for the best Plan in the fine arts that has been generously supported by Willene in honor of her mother.
Willene published several books, the most noteworthy being her two volumes of A Medieval Book of Beasts. She gained a grant to study and census early stained glass throughout New England, leading to her book The Stained Glass of William J. Bolton, about the first American artist in this medium.
Willene's scholarship led her to study abroad in Europe with support from many sources, from a Fulbright scholarship to the National Endowment of the Humanities. She was a frequent lecturer at places of learning, including State Public Library in Leningrad, Russia (then USSR), University of Colorado in Boulder, The Medieval Institute in Kalamazoo, Michigan, and the Medieval Conference at Harvard University. She also had many local speaking engagements on art and music history.
"Willene's passion for learning, the industry that she applied to research and writing, and her enormous generosity in sharing knowledge stand out in memory," says Paul Nelsen, retired theater professor. "I loved the way she could roll her eyes at certain irritating events but still maintain a twinkle of tolerance and bemusement in them."
"She will be remembered for her vast knowledge and deep love of art, classical music, especially opera, her dedication to teaching and her students, her magnificent gardens, her many deep friendships around the globe, and her 'doggies,'" wrote Jennifer and Joe Mazur, retired math professor. "She had such enthusiasm for Vermont, Marlboro, Marlboro College, her home on Chickadee Hill…and for life."