Marlboro College's 73rd Commencement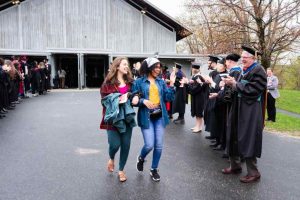 Although the coronavirus pandemic prevented the college from holding in-person commencement ceremonies and other activities, the graduating class of 2020 was celebrated by a commencement video, released May 30 and shared below, which they were able to enjoy with their family and friends. This on-line solution was developed in response to feedback and suggestions from graduating students, and captures the spirit of an in-person ceremony with speeches, music, and multimedia displays illustrating student accomplishments. The students simultaneously received a package from the college with their regalia, diploma, and other items to help them celebrate with their loved ones.
This was not an easy decision, especially given the special importance of this year's ceremony. Yet we are in a time in history that demands—first and foremost—the protection and safety of our students, families, and community. We still hope to hold an in-person celebration in late summer or early fall on Potash Hill so that we may come together to honor the graduates and the college.
Ceremony Details