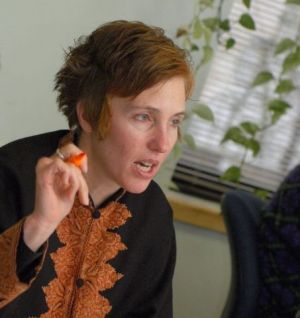 Cheryl Eaton calls herself a "fulltime human being" when referring to her multiple duties as a mother, a business professional and a student in Marlboro's MBA in Managing for Sustainability program.  And after two years of traveling from Jericho, Vermont to Brattleboro to take part in the monthly intensives, she says she wouldn't have it any other way.
"I wouldn't give it up.  The program and the people associated with the program have provided me with such nourishment these past two years," says Cheryl. "Marlboro's MBA program has made me a better businessperson, a better employer and employee, and a better leader.  I am more aware of my context – the systems of which I am a part – and my impact on them and potential to change them."
As a partner and the director of strategy for the marketing firm, Kelliher Samets Volk, which has offices in Burlington, Vermont, New York and Boston, Cheryl came to the program already having a thorough knowledge of how to operate a business. It was the reputation of Marlboro College and the comprehensive approach to sustainability that she found attractive.
"I was not interested in a traditional MBA program, nor was I interested in a "green MBA" or a program that tacked on a couple of courses about sustainability," she says. "I was only interested in a program that really challenged all the conventions of business, addressed social and leadership issues as well as environmental degradation, and sought to change mindsets. This is the only MBA program on the East coast that incorporates and integrates all dimensions of sustainability.  Plus, I knew Marlboro College was the one place that could really challenge business as usual."
Strong leadership is the key to changing current business practices, according to Cheryl. Her Capstone Project, entitled, Wild Genius: a Model for Unleashing Innovation and Inspiring Commitment to Change, is a blueprint for leaders to have the courage to do business in a way that "gets us closer to a thriving world." The project is sponsored by the Institute for Nature and Leadership, an organization based in Washington D.C. that offers educational seminars and consulting services that assist individuals and organizations in aligning strategy and actions with values inspired by Nature.
In some ways, Cheryl says, she is graduating with as many questions as answers. What is the role of marketing in a world of constrained resources and social ills?  How can her profession contribute to the solutions? While she may not yet fully know how her experience in Marlboro's MBA program will impact her career, she describes the shift in her perspective as "dramatic."
"There is a sense that things can be better – in business and in the world – and to make it so we can't hold on to old answers or assumptions," she says." We are challenging and inventing with an openness of discovering the new. "