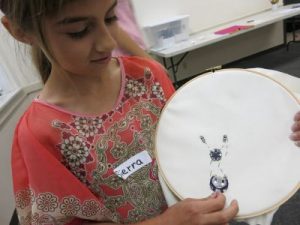 Last week, the Bennington Free Library hosted "E-Textiles," a grant-funded program for kids run by Caleb Clark, faculty and chair of the M.A. in Teaching with Technology program at Marlboro College. An engaged group of 18 kids learned how, using conductive thread, a battery holder, some small LED bulbs, and what Caleb referred to as a "twinkle chip," they could add blinking lights to anything they could use a needle and thread on.
"Believe it or not, this is engineering," said Caleb, who said the workshop was intended to attract both girls and boys to the field. In order to make the lights work, students had to sew thread through the fabric to connect the components, creating a circuit. Clark showed the students some examples of what could be created using this technique, including light up shirts, toys, posters, and accessories. After the three-hour program, the kids got to take their creations home.
The program was the second in a series at the library put on by Vermont Makers, made possible by funding from the Vermont Community Foundation Innovations and Collaborations grant.