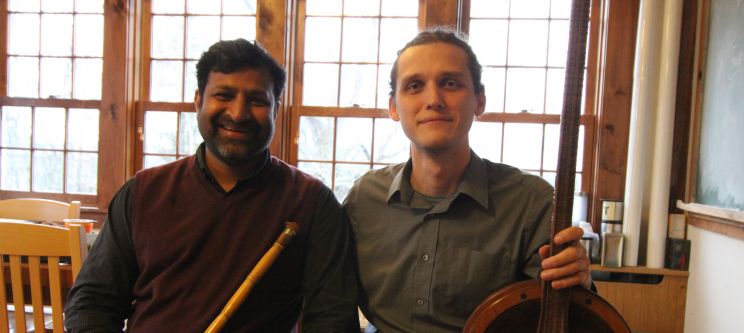 Music as Spiritual Practice
"I've joked that I'm still basically on Plan, and honestly not much has changed," says Mike Harrist '10, who has worked as a professional musician and music teacher since graduating with a Plan in music and religion. "I'm just a few years deeper into sitting at the feet of these great traditions." Mike has performed and studied in a wide array of world traditions, from Hindustani raga to Turkish art music to Jazz, and toured with various ensembles. But his closest brush with Plan was returning to Marlboro last fall to collaborate with religion professor Amer Latif in teaching a class titled Art as Spiritual Discipline: The Musical Traditions of North India and Turkey.
"This class comes from our mutual interest in the intersection of music and contemplative practice," says Mike. He and Amer received an Aron grant in 2010 for field research in Turkey, on the chanting practice in different schools of mystical Islam, and have continued their research and discussion since. "We ask, what does it look like when there is no distinction between the sacred and the mundane, between art and life?" Their goal is to ground these questions in music practice and the writings of great musicians and spiritual teachers, and to apply lessons learned to other arenas of life.
"It is such a joy to teach with my long-term teacher, mentor, and friend Amer. I've learned so much from him and through him. By becoming co-teachers, we are afforded a beautiful opportunity to further our relationship and deepen our work together."