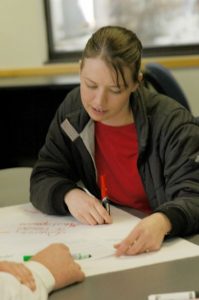 Marlboro College Graduate & Professional Studies is pleased to offer a new MS in Management degree program with a focus on Project Management (MSM-PRM). The new program complements the college's other graduate degrees in management, education, and technology, and fills a unique and growing niche in the world of business and non-profits.
"There is a true need for leaders with project management skills and knowledge, regardless of business sector, and I am excited Marlboro is offering this degree to fill that need," said Karen White, chair and academic for the new program. White is a global leader in developing standards for project management and author of the award-winning book Practical Project Management for Agile Nonprofits.
Through a curriculum that includes several courses from Marlboro's MBA in Managing for Sustainability program, students in the MSM-PRM program will develop practical knowledge and skills in areas crucial to project management professionals.
"The Project Management Institute recently published a survey indicating there will be over 15 million new project management roles added globally by 2020," continued White. "Leaders with project management skills will be in a prime position to benefit from this growth, and Marlboro College Graduate & Professional Studies is now well positioned to create these leaders."