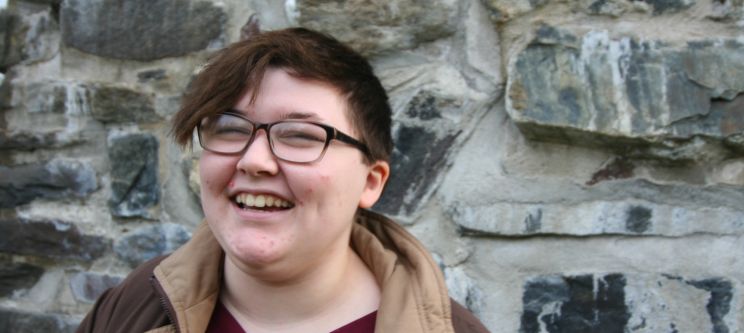 My teacher told me about the Colleges That Change Lives website. So I checked it out, and learned about Marlboro. I really liked the idea that thing things I do as a member of the community, like community service, actually matter. I feel like other colleges ask for those kinds of things to just sort of put on a list somewhere, but here what you put on your application actually matters. I like being in a rural area, and being able to go outside and see all the mountains and the trees, but I feel like also I couldn't be myself at home the way I can here. I'm much more comfortable with who I am as a person here than I would be elsewhere, I think.
ON CHOOSING COURSE OF STUDY
I've sort of narrowed it down to three things. I'm studying computer science, music, and possibly video/film production. I think there are a lot of ways those things can go together that can lead to fun and interesting things to do for plan. Like, I did a sound design tutorial that was computer science and music, basically. I think if you told anyone else you were studying all those things they might not see the connections, but there are things that you see when you are working with all those things, and you think oh, I could use this thing to show this. I'm thinking about ways to create a final product that is a culmination of work in all three areas.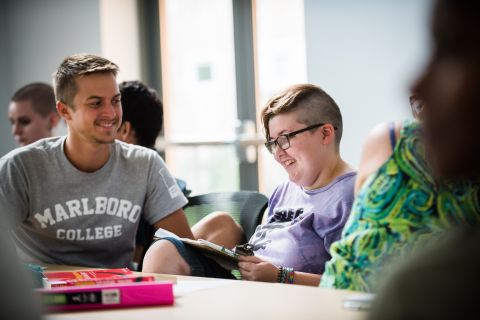 ON THE PLAN OF CONCENTRATION
I really liked the idea of making my own curriculum. The Plan of Concentration was something I didn't really understand until I got here, but I liked the way that it sounded. You know, being able to pick and choose whatever you wanted to learn, and combining them, because doing one thing is not really realistic. We do many things. Even if you're studying one thing, anywhere you go to college that would be true. I feel like I'm able to study whatever I want to study, and if I find new things to study along the way I don't have to worry about whether or not I'm following a certain degree path.
ON COMMUNITY
I feel like we have a really tight-knit community of people here who come from different places and backgrounds, and instead of being divisive over it we've formed a little community—because we're all that's out here on the hill, you know. And even if you don't personally know someone, you know that they would look out for you if you were in trouble. There's no sense of anonymity, which I think is great because it makes accountability a priority for us. When something's wrong we can say, "we know what's going on here, what can we do to fix it?" instead of pushing it off to other people. That community strength is really inspiring.
ON GENDER EXPRESSION
I've been going by Nick since my senior year in high school. When I first came out to my friends, I was sort of on the fence about wanting other people to know about it, and it was a very small group of people who did. Then when I was applying to Marlboro I decided, screw it, I'm going to put it on my application materials. I've started identifying as gender queer. This is the first place where I've ever gone to school that everyone knew the right name and knew the right pronouns and that was a big relief. It really gave me the chance to say, I don't have to call myself this thing just because I want people to see me a certain way. I can call myself whatever I want to call myself. And project myself how I wish to project myself. Because my perception of myself is what matters.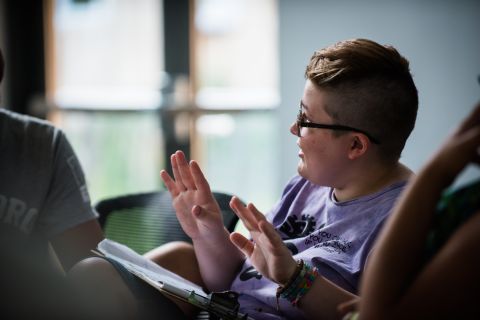 ON ADVICE FOR NEW STUDENTS
You're going to want to take every single class and participate in every single thing. But it's better to pick certain things, and know what your limits are, because this is a place where you can do anything and everything. But if you try to do all those things without thinking about what your body and mind can handle, then you can really get burned out. Know what you're capable of, and take care of yourself, because you are your greatest asset. There are plenty of resources here for you, so don't be afraid to ask people for help. It's easy to find ways out of those holes and start doing what you really want to do, which is to learn and grow as a person.