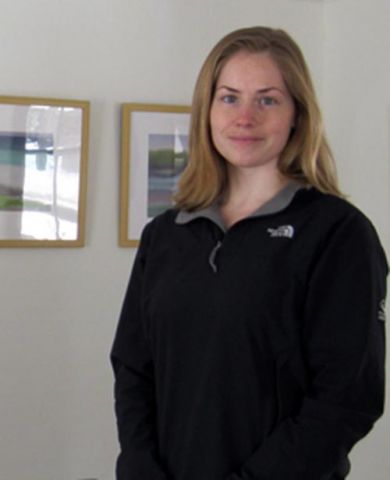 After graduating from Marlboro College in 2005, Sarah Mutrux moved back to Craftsbury, Vermont, where she grew up, and started up a small non-profit community arts center called The Art House Gallery, Studio and School. Relying on her background in visual arts and creative writing, she intended to provide art classes for the community and gallery space for the community's artists. What she wasn't prepared for, before participating in Marlboro College Graduate School's certificate program, was the business end of nonprofit management.
"I first heard about the Certificate in Nonprofit Management program in an email I regularly receive as a Marlboro alumna," said Sarah. "My nonprofit was headed into its second year, a crucial time for development, and I felt that I needed to know more about how the nonprofit sector works." She said that the classes at the graduate school confirmed that she was moving in the right direction with her organization, and corrected her actions when she was off base. It also strengthened her knowledge and understanding of fundraising, marketing, networking, budgeting, board management and the structure of nonprofits large and small.
Now entering its third year in operation, The Art House Gallery has joined forces with another local business, Stardust Books and Café, to provide The Common Place. Together, their mission is to cultivate the creative and literary interests of youth and adults in the Northeast Kingdom, while supporting the local economy at the same time.
As the executive director of The Common Place, Sarah creates the calendar of programs, hosts events, teaches classes, manages the physical plant and schedules several volunteers who run the day-to-day operations. The Common Place is working toward hiring a paid staff, but until then Sarah still balances her duties with her paying work as an admissions counselor at Sterling College. "There is so much to do, and so little time to do it all in," said Sarah. "But I love creating community bonds through the programming, seeing how much people like to participate and seeing people engaged, learning, and enjoying themselves."
Sarah says that Marlboro's certificate program "gave me the inspiration, motivation and knowledge of the field to move my organization into the future." Now as a certified manager in a nonprofit, Sarah feels much more qualified and prepared to lead The Common Place for many years to come.